PK 3 AND PK 4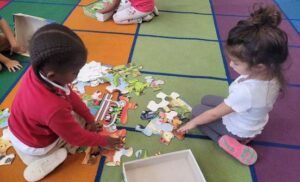 The Pre-Kindergarten Program at Saint Teresa of Calcutta School incorporates language arts, math, art, music, science and discovery, social studies, self-help and gross motor skill development. The emphasis is on language, activity, and movement with major emphasis on large muscle activity. Appropriate activities make use of dramatic play, wheel toys and climbers, and puzzles and blocks. Opportunities are provided for students to listen to simple stories and verbalize their knowledge, opinions, and comprehension of lessons and feelings.
The focus of this program is primarily oral language development and learning experiences that encourage involvement to enhance emotional and social growth. Skills learned earlier are practiced and enhanced. Thematic-based units offer the preparation for a variety of learning activities.
KINDERGARTEN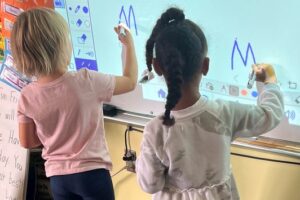 The Kindergarten Program is for children five years old on or before August 31. The classroom is organized into learning centers designed to develop a love of learning. Time and space are organized to encourage active exploration, self-directed play, and freedom of choice at various learning centers, as well as to provide teacher-directed and structured group activities.
The curriculum provides instruction in math and reading readiness skills. It also fulfills the need for different learning styles, multilevel activities in a child-oriented environment where children are given the opportunity to grow in a variety of ways.
Please note Kindergarten students are required to wear school uniform. Check handbook for dress code requirements.