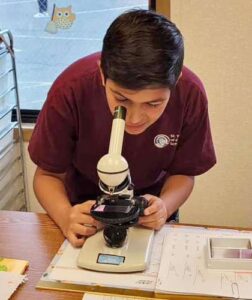 The foundation of a middle school education is rooted in the belief that we are all made in the image and likeness of God and that it is through education, we begin to discover who we are as a person and how we can best serve God's family. The middle school years are formative years in the development of young men and women to be lifelong learners – exploring their spirituality and deepening their commitment to social responsibility – while fully preparing them for the rigors of high school academics. Our middle school focuses on the values that so many seek in a quality education: superior academics, faith formation, the building of character, in a safe and nurturing community where everyone is accepted, respected and never lost in the crowd.
Students are challenged daily in Science, Technology, Religion, Engineering, Art, Mathematics, Language Arts, Social Studies, Physical Education, and World Language. Our middle school teachers rotate among the middle school classes so our grade 6 through 8 students are exposed to different teaching styles and methods. This approach better prepares students for high school, but also allows teachers to focus on their subjects of expertise.
Our faculty and staff are dedicated to ensuring that every student achieves his or her highest potential academically and spiritually. They are faith filled individuals who strive to meet the needs of each student within the unique characteristics of a middle school community.